In the world of labeling or sealing, there are adhesive label solutions intended to meet specific requirements, such as holographic seals, which guarantee that no one has tampered with the product and or that it is authentic. Yet they also provide more benefits! If you want to know more read on!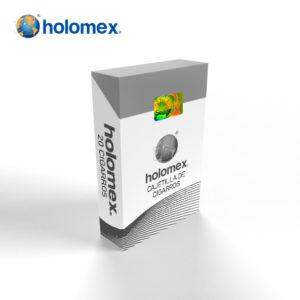 Holograms are used as guarantee seals in various products because of the danger these products face in relation to being counterfeited. Security holograms are designed to combat counterfeiting due to their unique optical properties which diffract light and create virtual 3D effects. These special properties are impossible to copy with conventional devices most commonly used by counterfeiters. They are the best way to protect your product and here are some examples of the uses of these warranty seals:
Labeling for medicines, beauty products and product packaging in general
Branded clothing labels
Labeling for tobacco products
Labeling for alcoholic drinks
Event ticket seals
Lottery ticket seals
Seals for certificates and other important documents
Car registration tags
Employee ID badge seals
These warranty seals also help create a unique and attractive complement to the packaging of the products, and the consumer may realize there is greater value in products protected with holographic labels. In addition, it shows that manufacturers who use security seals care more about the quality of their products.
Where to buy guarantee seals? Give your customers more confidence and place your order on Holomex!
At Holomex, we are label manufacturers and global pioneers in the field of holographic security. With over 37 years of experience in the industry and a presence in most of Latin America, we offer our customers high quality holograms to combat product and document counterfeiting. The efficiency of our processes allows us to offer very short delivery times and competitive prices.
Thanks to our experience, we currently offer our services to different industries: pharmaceuticals, beverages, tobacco, wines and spirits, beauty and personal care, banking and finance, universities and colleges, licensing and brand protection, electronics, chemicals and agriculture, graphic arts. and packaging, high security documents, promotions and advertising.
See some of our Holomex products:
Contact us and ask about our products and their characteristics, we will offer you a solution that suits your needs. Place your order now!